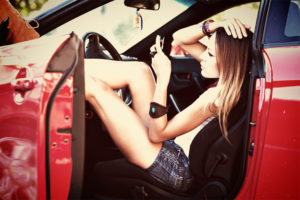 Some men may wonder where exactly we ladies are as we take phone sex calls. Well the truth is, we can be just about anywhere. Some ladies do indeed do calls on the run so to speak while they are shopping and roaming up and down the shopping aisles, while they are driving or waiting in traffic. It just depends what they are comfortable with. One other operator I know told me she has a long commute from her job and she frequently takes calls while in the car driving to and from the office and some of the calls have gotten a bit hot considering she's supposed to be driving.
Masturbating while driving is not always the safest option, but people do indeed do these things. Many have a long drive on a quiet road without much traffic and they can easily rub one out safely, or so they claim, as they are tooling along the highway. We do not advise callers to masturbate or call while driving, but it absolutely does happen. Some will even call just to talk to beat the boredom as they drive, not even rubbing their dicks while on the road. So this other operator was telling me she was driving and doing a call and the caller was really turning her on and she decided the safest thing was to pull the car over and masturbate.
She put her hand up her skirt and was touching herself, teasing her pussy lips through her damp panties and feeling her stiff little bud of a clit. The guy on the call with her was stroking his cock and talking so sexy to her, she just couldn't stop herself and was pushing a couple of fingers in and out of her cunt as she steamed up the car windows all by herself. She soon came and so did the caller and she continued on home as she had a wet, sloppy pussy driving through the night.