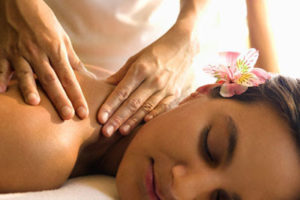 Recently I treated myself to a spa day and had the works, facial, manicure, pedicure, sauna, massage, foot massage, it was fantastic to be pampered in such a way. The masseur was male and I didn't think anything of it and he had hands like magic, roaming all over my body making me feel wonderful, the massage was nearly over when he leaned down to my ear and whispered to me, "Would you like a happy ending?" I was a bit surprised, but I felt so good, I simply didn't want it to stop, so without saying a word, I just nodded yes and let him go to work.
He oiled up his hands even more and spread my thighs open and began to massage my inner thighs and upwards, and I was opening my legs for him and I felt his fingers touch my pussy lips lightly and then my clit and he worked it and worked it, driving me crazy, bringing me to the edge over and over and I was just quivering at his touch and finally he started to rub my clit counterclockwise and did not stop and I was getting closer and closer and bit my lip to keep from crying out and having the other spa guests hear me. I came explosively. He sure knew what he was doing with those hands.
I felt a bit embarrassed after what I'd allowed to happen, but he just smiled and left the room. I walked into the shower in the adjoining room and had a nice, long one, I felt limp as a dishrag I was so relaxed. I wondered how many other ladies he'd gotten off today or this month? Callers will often ask to hear about exciting, real life sexual escapades, so things like this are perfect to bring up on calls. I wouldn't tell them the name of the spa it happened at, a few asked, but it was a very sexy experience and one I hope to repeat again soon.