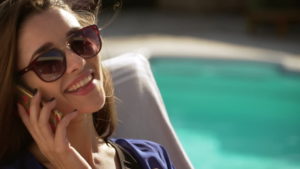 One great thing about doing phone sex, is how you can take your phone with you and are not chained to a desk. One of my favorite things to do in the warm weather is sit out by the pool and enjoy the sunshine and the garden and the pool and be able to take calls out there. I've even taken calls floating on the inflatable lounge chair, so when a guy asks me "are you wet?", lol, ya baby, I'm wet alright! Earning money while you relax, there's nothing better than that. Sometimes I also like to get in the water and masturbate by letting the water from the pool jets hit my clit, it's a fabulous way to cum and the callers enjoy hearing me cum as well, so it's a win win.
The summer season is so short as it is, being outside and enjoying the water is one of my favourite things. The birds and the bees have no clue what I talk about as they hear my naughty words, luckily the neighbours are far enough away from my property they cannot hear what I say, so I can take calls in the great outdoors and not worry about it.
There was a caller last night and he too was outside in his yard, in the near darkness slowly stroking his cock and enjoying the night air and the stars as I talked him through his orgasm. It's lovely to masturbate outside and enjoy the feel of the breeze over your naughty bits and cum like that. When you live in a secluded area and have the privacy, it's very nice to walk around your garden naked and masturbate at will. Summer is short, so I will enjoy this time while it lasts and look forward to that as a fun part of the year.